Roses are red…and they can also come in a wide variety of other colors too! Mother's Day is right around the corner and it is a perfect day to give a beautiful bouquet to all of the special moms in your life. I've bought countless bouquets in my life, and most of them are either purchased at Kroger or an online shop that usually partners with a local florist. However, recently I was able to go a different route and I purchased flowers from VIVAROSES.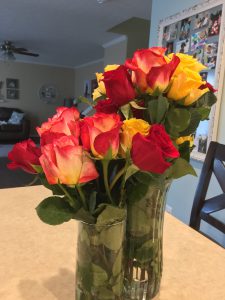 I had the pleasure of having the Fallin' in Love bouquet sent over in secrecy to surprise my wife and daughter. They both were very intrigued by what was in the box and my wife texted me a picture asking if I knew what was inside. The box itself was a sleek black with the VIVAROSES logo on the side. It was a nice shape and upon opening, we saw that the flowers inside were packaged perfectly.
I've always been skeptical about ordering flowers online where the order isn't fulfilled by a local florist, however, these roses arrived in perfect shape, with no broken stems! It took a few minutes to get the bouquet out of the box as a result of how well the flowers were packed in there. Once they were out, I put the flowers in a vase (actually two because there were so many stems) and then placed them on my kitchen island. It has been a few days since I received the flowers and they are still beautiful and smelling great!
Despite my hesitation, I'm glad I went with VIVAROSES for this holiday and I'm sure I will use them again in the future. If you'd like to order some beautiful flowers for someone special in your life, use the link below to receive 20% off. Be sure to place your order by May 7th if you want to receive them in time for Mother's Day!
Place your order by May 7th to receive them in time!
Click here to order and receive 20% off.