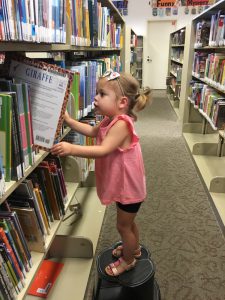 Most would agree that it can be hard to find free entertainment for kids these days. I'm not opposed to paying for memberships and passes to certain things, but it is always fun to have a few free options in your arsenal. One of my favorite free options is going to our local public library.
Brit and I have been taking Cambree to the library ever since she showed an interest in books, and now we take Crew even though he can't pick out his favorite books just yet! Since we both work, we usually end up taking the kids early on Saturday mornings right when the library opens (10am in our case). We've found that this is a great way to start off the weekend after we've had the chance to wake up and eat breakfast at home. The library closest to our house has a wide variety of children's books, CDs, DVDs, and more – all for free, of course. In addition to the normal things that you expect to see at a library, The Public Library of Cincinnati also offers a wide-range of programs that are free of charge. I'd recommend looking at their list of upcoming events or programs and picking a few to try out. Make sure you apply for your library card, if you don't have one already.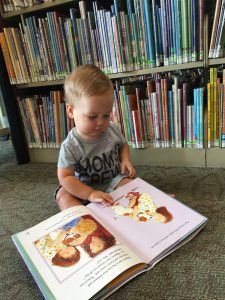 As a family, we all always look forward to our library trips. We usually end up with a bag of books that is almost too heavy to carry and countless hours of bedtime reading materials. During a time where it feels like nearly everything is automated or online it is nice to unplug from that for a bit at the library.
If you haven't been to your local library in a while, give it a shot and bring the kids along. Visit: http://www.cincinnatilibrary.org/ to find the library closest to you and then go!